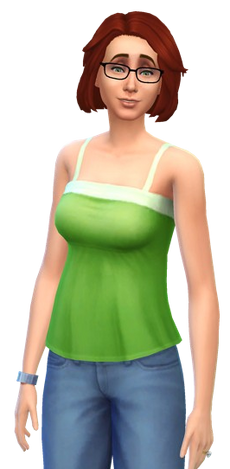 Eliza Pancakes is a pre-made sim, currently living in Willow Creek. She is known for nagging and complaining the whole day when talking to her husband Bob.
Her ambition is to become the richest and wealthiest woman in the neighborhood. Her materialistic habits prevent her from liking anything cheap and uncomfortable. Therefore her husband agreed with her that she can have her own room, full of clothes among other things.
She is based on Betty Newbie, one of the first pre-made sims in the Sims Series, because both are named after Elizabeth and both are married to a man named Bob.
She is seen arguing with her husband on one of the Sims 4 trailers "Stay Weirder". Unlike her husband, she was not elected to feature in the Sims series 16th anniversary on February 4th 2016, because she might cause a rally on the set.
Even if Bob and Eliza argue 24/7, we do not doubt that they are the perfect couple for each other. Eliza makes sure that there is balance in the house, while Bob listens to everything she says. Bob also makes sure that there is enough income, so that Eliza can buy her beloved clothes and furniture to calm her materialistic trait.
She and her husband Bob are equal to Bob and Betty Newbie from other games.