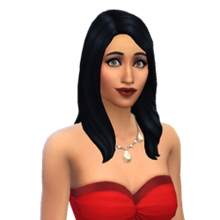 Bella Goth returns AGAIN to The Sims!
Bella Goth has been a Sim in all of the main Sims game series since The Sims came out in February 2000. Bella is always seen wearing a red cocktail dress, and has long black hair. In The Sims, she was part of a playable household that included Mortimer, Bella, and their daughter, a child Cassandra Goth. In The Sims 2, Bella Goth was an NPC (non playable character) that was one of the backstories of two different neighborhoods and tied the two together. In Sims 2, Mortimer was an old man, and Cassandra an adult. In the Sims 3, Bella Goth is part of a playable household, but this time Bella is a child who lives with her mother, Jocasta Bachelor, her father, Simis Bachelor, and her older brother, Michael Bachelor, and she is known as Bella Bachelor. In the Sims Social, Bella Goth even made an appearance as a friend/neighbor, and had the Friend of the World aspiration.
In the Sims 4, Bella Goth is part of a playable household that includes Mortimer Goth, Bella Goth, Cassandra Goth (their teenage daughter), and the child Alexander Goth (their son).
How She Is Seen
[
]
Bella is seen as an enigma. She is mysterious and seductive. With a reputation from the previous games, it makes you wonder what secrets she holds... She is an iconic symbol of The Sims franchise.
How To Steal Her House
[
]
In order to steal money from any sim, you have to befriend them. You can befriend a sim by using friendly or funny socials until your current status with the sim says "friends." If you don't have at least two sims in your household, you must transfer all sims from Bella's household and put them into yours. After you put your sim in Bella's household, you must choose at least one sim from Bella's family to keep. If you repeat the same steps, you can put the sim you kept back in Bella's household.
Traits and Aspirations
[
]
Bella has the Party Animal aspiration, and has the following Traits: Good, Family-Oriented, Romantic, and Gregarious. She resides in Willow Creek.